Fiddle Yard Controller
This FY Controller is based on a stepmotor.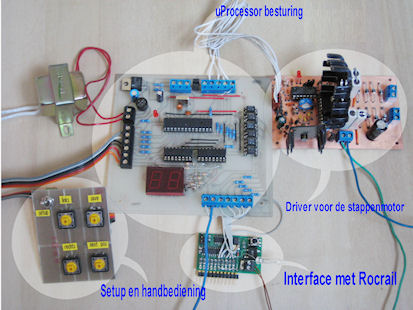 Features
Full Rocrail compatible

Setup/operate panel

Controlled with standard, opto-isolated in and outputs

4 inputs for setting one of the 16 track numbers

1 input for enabling the new setting

1 output and 1 LED to signal the reached 'track position'

Positions are stored in the PIC's eeprom

Dual 7 segment led display to show the position

Very easy and accurate positioning
Setup
Switch to the setup mode

2 push buttons control the FY to the left and to the right to reach the wanted position

A third push button saves the position in the PIC's memory

the 4th 'Next' push button to select the next track number
Calibration
When powered on, the software moves the fiddleyard to the start position and acivates the begin microswitch.
Files
Firmware source, schedule and board (KiCad):
GC145 fiddle yard controller
One other option is the GCA145 Turntable / Fiddleyard controller
It provides a nice kit with professional made pc-baord.
GCA145 is 100% comptible with Rocrail.
A full manual is also included in this GCA145 page.